Love to eat Korean food? How about learning how to cook your favorite Korean food?
Korea Plaza offers a Free Korean cooking class to our Kaki Korea Club members on every second or fourth Tuesday of a month. Depending on the number of participants, you will get the opportunity to experience a "hands-on session" on how to make the dishes, the recipe and have a try on the taste yourself.
Special cooking class this time, a TV station, SBS ( Seoul Broadcasting System) will come to Korea Plaza and record our cooking class to be featured in their morning programs.
Learn cooking Korean dishes has never been so easy!
Date & Time
6 October 2018 (Saturday), 11 am – 1 pm (2 hrs)
Menu for this cooking class
1. Spicy Stir-fried Chicken (Dak-galbi 닭갈비)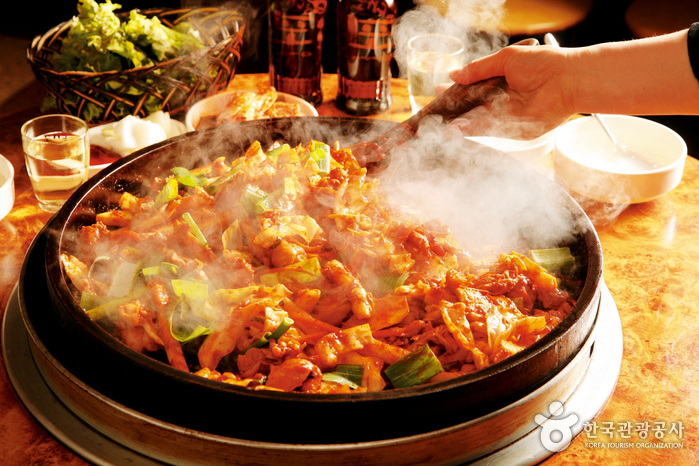 Dak-galbi, or spicy stir-fried chicken, is a popular Korean dish made by stir-frying marinated diced chicken in a gochujang-based sauce with sweet potatoes, cabbage, perilla leaves, scallions, tteok, and other ingredients. Many dak-galbi restaurants have round hot plates that are built into the tables.
2. Cucumber Kimchi (Oi Sobagi 오이 소박이)
Cucumber kimchi is made by turning a cucumber into a pocket and stuffing it with vegetables and kimchi paste. It's delicious and refreshing and it's a great kimchi to make when cucumbers are in season and you don't feel like waiting for your kimchi to ferment. You can eat this right away: they're cool, spicy, and crunchy and go well with beef and radish soup. Cucumber kimchi is a good example of a kimchi that doesn't have to be fermented to be great.
How to participate?
Login to your Kaki Korea Club (KKC) member account (click HERE to register for a Free KKC account).
Fill out the registration form on the right side of the page.
Show your IC to our staff on the actual date of the class.