Sevenvault is a content and idea strategist hub which provides an integrated solution which connects influencers and brands for online and offline platforms. They provide strategic content planning but also to create a seamless collaboration experience for both client and influencers by personalizing each and every working experience. We are happy to have Sevenvault to share their experience during their last trip to Korea with us.
KKday is the leading e-commerce travel platform that connects travelers with authentic local tours & activities. They are currently running an exclusive promo campaign for Korea and learn some tips and tricks on how to travel smart in your upcoming trip. Click here to learn about the promo!
What are they going to share
Travel in Korea with Sevenvault – featuring LUGE ride, Songdo (45 mins from Seoul), Petite France, etc
How to take the perfect Instagram travel photo
Songdo
Songdo embodies the future of Incheon. Built on reclaimed land, Songdo offers a number of attractions. A trip to Songdo can start at Central Park, a natural oasis in the city. Because of its proximity to the sea, the manmade waterway is filled with sea water, and water taxis travel through the park. Close by are a lawn and a promenade along a field of reeds. Nearby, there are many futuristic-looking buildings, creating a harmonious combination of technology and the natural environment.
Luge riding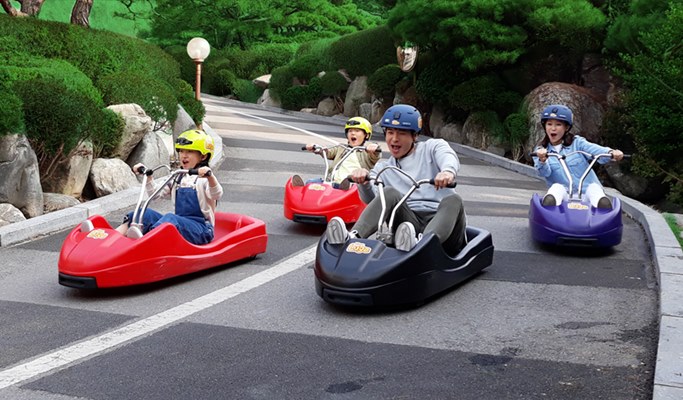 It is so much fun to ride on the longest distance luge in Korea and most probably in Asia! It's located in Gangwha island, Incheon which is not far to travel from Seoul. On the ride it takes around 15 minutes and there is 2 tracks with different steepness.
Petite France
Petite France is a French-style theme park that was constructed in July 2008 in Gyeonggi Province, South Korea.
The Garden of Morning Calm
The Garden of Morning Calm is an arboretum located at the east of Seoul, in the Gapyeong district of South Korea. On 300,000 m², it houses 5,000 species of plants, some rare or endangered and attracts 600,000 tourists per year. The name of this garden reminds that Korea is often nicknamed the "country of the morning calm". There are different festivals in this garden, especially in winter with a light festival.
Date & Venue
19th October 2019 (Saturday) @ Korea Plaza, Menara Hap Seng
Schedule
| | |
| --- | --- |
| Time | Schedule |
| 10.30 am – 11.00 am | Registration |
| 11.00 am – 11.30 am | Presentation: Basic Korea Information |
| 11.30 am – 12.20 pm | Presentation: Travel to Korea with Sevenvault and Kkday |
| 12.20 pm – 12.30 pm | Lucky Draw and some activities |
| 12.30 pm – 1.00 pm | Refreshments |
Presenter
Korea Plaza manager, Ms Adele Chow – Founder of Sevenvault, Mr Minz Chan – Marketing team of Kkday.
How to Participate?
Login to your Kaki Korea Club (KKC) member account (click HERE to register for a Free KKC account).
Fill out the registration form on the right side of the page.
Show your IC to our staff on the actual date of the seminar and they will give you a Coupon Meal for the redemption of light refreshment (coupon meal is strictly for registered participants only)!