| | |
| --- | --- |
| Registration | 14 March 2018 (Wed) Until 18 March 2018 (Sun) 23:59 |
| Event Date | 24 March 2018 (Sat) 11:00 Until 24 March 2018 (Sat) 13:00 |
| Event Duration | 11:00 AM ~ 1:00 PM |
| Venue | KL Korea Plaza |
---
Starting as early as March, the cold winds and freezing temperatures of winter begin to subside as spring draws near. In Korea, a wide array of events celebrating the season are held throughout the country, where many activities take to the outdoors thanks to the milder weather. 

The return of the warmer weather not only brings countless beautiful wild flowers into bloom, but also gives families a chance to spend precious time with their loved ones through all the various activities that can be taken advantage of outdoors. Read on for the list of festivals celebrating the lovely spring atmosphere in Korea.
The beauty of spring in bloom!
From the beginning of March when the air is still cool, spring announces its arrival in Korea with a blanket of white and yellow blossoms spread like a quilt all over the nation. The warmer season sees a host of festivals take place in Korea where visitors can stroll among the blossoming spring flowers and see the country at its finest.
---
Jinhae Gunhangje Festival
Introduction
Jinhae Gunhangje is held in the area of Jungwon Rotary and downtown Jinhae with splendid cherry blossoms. Varied programs including a pre-event, cultural performances, a military performance, and others will take place during the festival.
---
Yeongdeungpo Yeouido Spring Flower Festival 
Introduction
The Yeouido Spring Flower Festival is held on Yeouiseo-ro Road (Yunjung-no) in mid-April when the azaleas, forsythia, royal azaleas, and other spring flowers are in full bloom. The celebration is famous for its 1,886 Korean Cherry trees. 

Cars have limited access to the road around the National Assembly Building during the festival period so that visitors can enjoy the blossoms and festivities freely. At night, the cherry blossoms are lit up with various colored lights and a wide range of street performances and art exhibitions take place.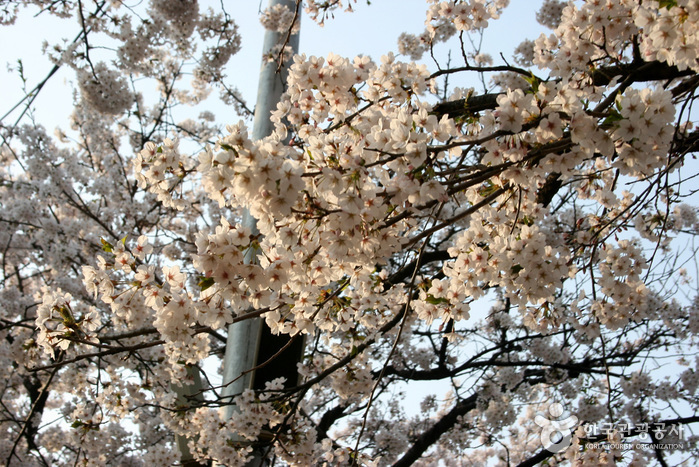 ---
 How To Apply?
Complete the event online registration form and click the submit button.

An email will be sent out automatically once your registration has been received.

Click HERE to register as a Kaki Korea Club member if you are not a member yet.
A COUPON MEAL will be given to registered participants only. We seek your cooperation on this matter. Thank you 
---
KAKI KOREA CLUB MEMBER
ADILAH TARMIZI
AHLAMAHMED
AINAADNAN
ALAM
ALICELOKE
AMI_KAIRA
ANIYAHHUDA
ANN21
AOMIKACCHI
APPLEIJO
AWANIS11
AWSP3362
BAITIEXO
BAIZURA1604
BERRY2112
CARMEN CHIM
CHECKERZELDA
CHEE LING
CHINML
CHNGOO
CTEIK
CTSISO
DAPHNELLEE
DAVIDLIM201475
DAYYYHARU
DEE FARIDA
DNALILBOOGIE
EELYNN_90
ELIZABETH YAP
EN3630
EREGGIE
ESTELLE
ESTHERTAN
FAI ZUBIR
FAITHLUM
FAIZAHIJAH
FARAHANA230891
FATIMAHZUBIR
FATIN_EERA
FIFA MONG
FIQAH14
FIZA AZIZ
FYKA ABDULLAH
GWENJANG
GYY
HAFIZAHAYU
HAIZUM85
HAMDAH
HANIEZA
HASRAMELI
HAYATIYAAKUB
HAZRI
HPLAU
HUIEN_20
IDAH96
IDAIFFAH
IDTASHA
IYMABAIN89
IZNI
JANET YONG
JENNI
JIAJCHEW
JIAWEN90
JOANNESUJU
JOO HYEON LEE
JOSONYAP
JULIYANA94
KAMAL
KOAY SEONG CHUN
LAIYEE
LEE ANNA
LYIENKIEFLI
MAKNAE_TAJA
MAOFUAD
MARGARET
MARIA
MASIYAF
MILAWEY89
MIMIEYIMI
MING CHIN
MING YENG
MIRA HIDAYU
MIZZSUKI
MONICA_0192
MYRAREDZ
NIA
NILS
NITAGYU
NORFARIDA
NURSSTA
NURUL
PARK YEOL
PYNIC
REENRAMLAN
REGGIEYAP
ROHAFEEZAHRAMLI
RYNSALIM
SAKURAMICHI143
SARAHOYA95
SF CHEW
SHAFIZAL_2015
SHAQQ
SHARONLEE28
SHHAY
SHINGHUEI
SMWONG84
SNOWDOLPHIN
STARFISH2017
STEPHANIERF
SYAFEERA
SYAFIQS
TANLYE
TASNIMIDROS
TENGKUSUSU
TIANTIAN
TJE0305
TJEJ
TRAVELLOVER23
WEITING
WENNILIM
WROHAIZA
YP86CHAI
YUHEEKOTOSHIO
Registration Closed on 18 March 2018