| | |
| --- | --- |
| Registration | 05 December 2017 (Tue) Until 09 December 2017 (Sat) 23:59 |
| Event Date | 16 December 2017 (Sat) 11:00 Until 16 December 2017 (Sat) 13:00 |
| Event Duration | 11:00 AM ~ 1:00 PM |
| Venue | KL Korea Plaza |
---
Gogossing seminar this time with winter story, we will introduce interesting places and festivals with some activities!
---
Winter in Korea is usually between December and February, with the average temperature in January, the coldest month, ranging between minus six degrees and three degrees Celsius. The days with the lowest temperatures in the winter usually occur in the middle and end of January. In winter, the days are shorter with the sunrise occurring later and the sunset occurring earlier. Usually, a cycle of three days of cold weather followed by four days of warmer weather is repeated. The mountainous regions in Gangwon-do receive snowfall starting in early winter, with the weather being very cold and dry due to the wind blowing in from Siberia. Major holidays between the months of December and February are Christmas, New Year, and Lunar New Year, and the months of February and early March are the time for graduation ceremonies and the start of school. In rural areas, arable land is left to rest until farming resumes in the spring while some vegetables are grown in vinyl greenhouses. 
Winter in Korea means plenty of festive gatherings, from Christmas to New Year's Eve parties. As December comes to an end and the year draws to a close, people gather at sunrise festival locations across Korea to welcome in the first sunrise of the New Year. January and February are perfect for reveling in the chilly weather by visiting snow and ice festivals. Each region has its own unique winter culture and specialty products, for endless opportunities to enjoy an active winter in Korea.
---
Inje Icefish Festival
Introduction
Inje Icefish Festival has developed thanks to a lot of tourists' participation and their interest since 1997. It tries to offer varied programs following trends. Visitors can enjoy icefish fishing at the festival venue.
Programs
- National Competition: National ice soccer competition, national creative competition
- Icefish Site: Icefish fishing, icefish cook coaching, fish porridge sharing, large-sized icefish sleigh, icefish studio, etc.
- Food: Icefish food, agricultural and specialty product sales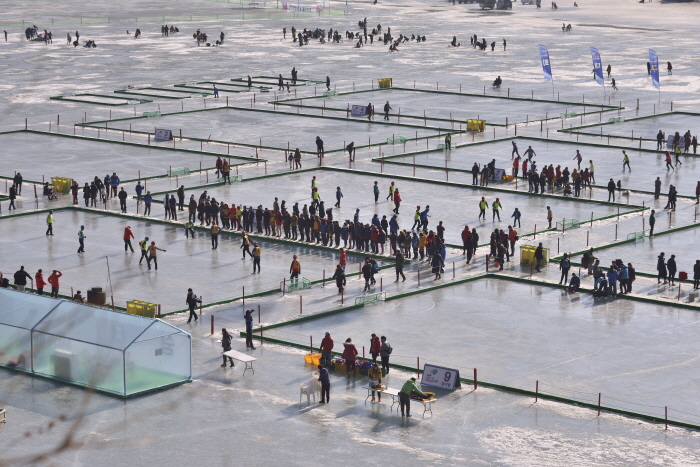 ---
Lighting Festival at The Garden of Morning Calm
Introduction
Held at the Garden of Morning Calm, the Lighting Festival is the biggest festival of lights in Korea, covering 100 thousand pyeong illuminated by 30,000 lights. The gleaming lights add a festive glow to the garden during the winter season. The main gardens are Hakyung Garden, Hometown House Garden, Bonsai Garden, Moonlight Garden, Sky Path and Garden of Eden, with colorful lights adorning the trees. In the event of inclement weather, lights may be turned off for safety.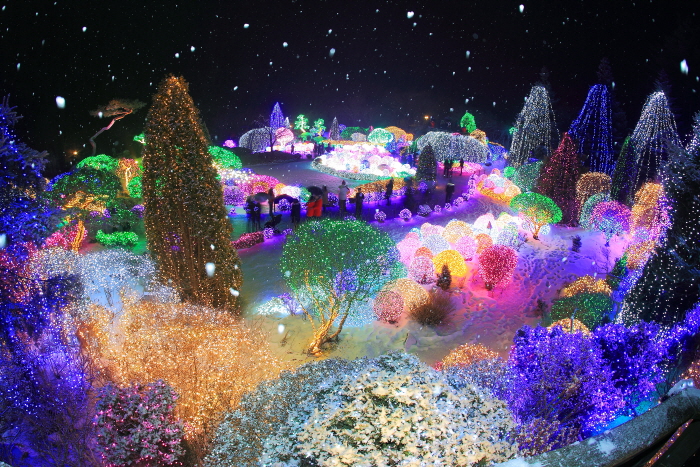 ---
Hwacheon Sancheoneo Ice Festival 
Introduction
Hwacheon Sancheoneo Ice Festival takes place at Hwacheon county in Gangwon-do with plenty of snow and ice, perfect for a winter getaway. Since 2003, the festival has been visited by a million people, making this festival more joyful. Varied festival programs include ice-fishing, ice sledding, bobsled, and other things to see and participate in.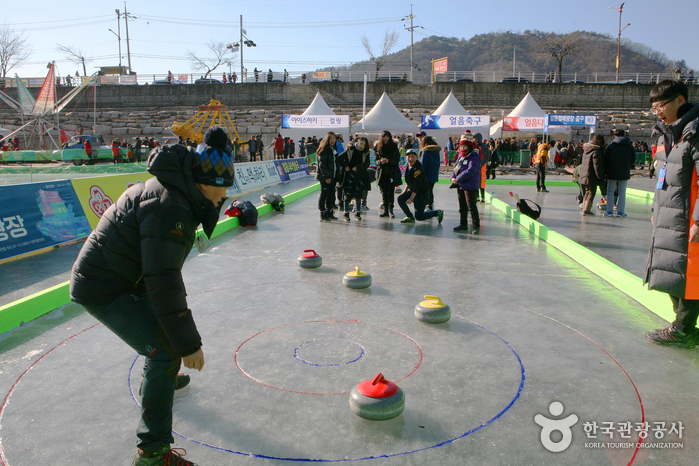 ---
How To Apply?
Complete the event online registration form and click the submit button.

An email will be sent out automatically once your registration has been received.

Click HERE to register as a Kaki Korea Club member if you are not a member yet.
A COUPON MEAL will be given to registered participants only. We seek your cooperation on this matter. Thank you 
---
KAKI KOREA CLUB MEMBER
ADILAH TARMIZI
AINAADNAN
ALAM
ALICE CHONG
ALICELOKE
AMER
ANISWAHAB
ANN21
AOMIKACCHI
APPLEIJO
ASYA0512
AYIEN AIEN
BABYLON90
BERRY2112
CAFFEINE
CAIREN
CARMEN CHIM
CATHERINE CHENG
CHINML
CHINMM
CHINYL
CHOCOFIZ
CHUAH XIN YU
CMOOI80
CPMOON
CTEIK
CWLIM
DAPHNELLEE
DEE FARIDA
DLTL1805
DOMINIGUE
ELIZABETH YAP
ERIEYNN13
ESTELLE
EVELYNMARTHA
EZZAIDARAMLE
FAI ZUBIR
FAIRUZZJAMAL
FAIZAHIJAH
FARAHANA230891
FATIN_EERA
FIZA AZIZ
FLOWER1312
GWENJANG
HAFIZAHAYU
HAZRI
HPLAU
HYUNMEERA
IZNI
IZZATUL.EUN
JAJAJALILAH
JANET YONG
JIAJCHEW
JOENI85
JOEY CHONH
JOSONYAP
JOYCE94
KOAY SEONG CHUN
KWENNY92
LAIYEE
LIMCZ
LYDIAPURES
MADAMCHANG
MARIA
MAZLAN93
MILAWEY89
MIMIEYIMI
MING CHIN
MING YENG
MSRAEWON86
NABILAHSHOIB
NATALIEGKN
NICOLEFOO
NILS
NITAGYU
NOORFADZILAHWATI
NORFARIDA
NURSHANIZA
NURSSTA
NURUL
PLFOONG
PYNIC
REENRAMLAN
RYNSALIM
SABAROSLI
SAKURAMICHI143
SAYAAKU
SEONG RONG
SHAMZSHAMRIE
SHAQQ
SHAZLEEN1204
SHHAY
SHINGHUEI
SHINGYIEN
SITINURAIN
SLCHIN
STLIM03
SYAFIQAH ASNAWI
SYEILA RASALI
TANLYE
TASNIMIDROS
TENGKUSUSU
TIANTIAN
TJEJ
WASILAH HAWA
YANIE
YAYATHEBUNNY
YPLEONG
YURMAINI
Registration Closed on 09 December 2017