| | |
| --- | --- |
| Registration | 15 March 2017 (Wed) Until 19 March 2017 (Sun) 23:59 |
| Event Date | 25 March 2017 (Sat) 11:00 Until 25 March 2017 (Sat) 13:00 |
| Event Duration | 11:00am - 1:00pm |
| Venue | Korea Plaza KL |
---
Starting as early as March, the cold winds and freezing temperatures of winter begin to subside as spring draws near. In Korea, a wide array of events celebrating the season are held throughout the country, where many activities take to the outdoors thanks to the milder weather.

The return of the warmer weather not only brings countless beautiful wild flowers into bloom, but also gives families a chance to spend precious time with their loved ones through all the various activities that can be taken advantage of outdoors. Read on for the list of festivals celebrating the lovely spring atmosphere in Korea.
Let's take a look at some of the spring festival that is happening and will happen in Korea!
---
Meet the first cherry blossoms of the year at 
Jeju Cherry Blossom Festival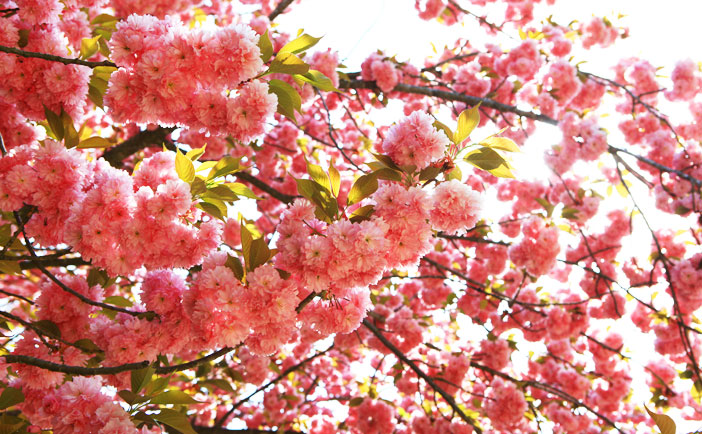 Period: March 31-April 9, 2017 (Planned)
Venue: Areas of Jeonnong-ro, Jangjeon-ri & Jeju National Univ. Entrance, Jeju-do
Description: The Jeju Cherry Blossom Festival is where the nation's first cherry blossoms can be seen. The festival features a cherry blossom photo zone as well as various other programs to enjoy. In addition, the festival can be enjoyed fully day or night with the use of a vast lighting system.
---
A must-visit for couples, 
Hwagae Cherry Blossom Festival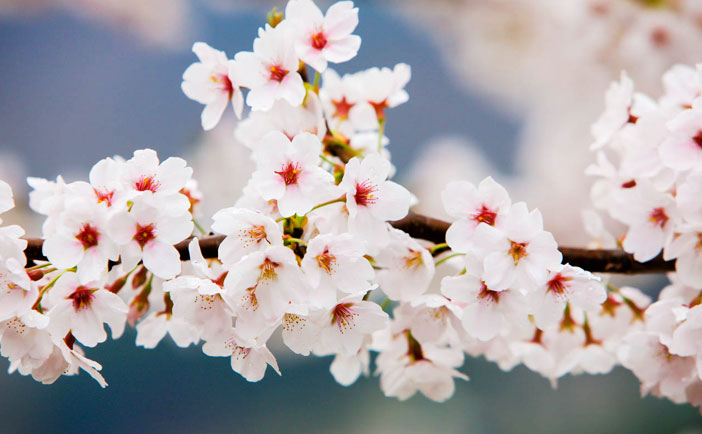 Period: April 1–2, 2017
Venue: Areas of Yeonghonam, Hwahap & Damokjeok Plaza, Hwagae-myeon, Hadong-gun, Gyeongsangnam-do
Description: Hwagae Cherry Blossom Festival is held around Hwagae Market, a traditional open-air market situated on the border between Hadong in Gyeongsangnam-do and Gurye in Jeollanam-do. In particular, the cherry blossom trees along the six kilometer road from the market to Ssanggyesa Temple are a fantastic sight to behold. It is believed that if a couple walks down this road holding hands, they will grow old together in an everlasting relationship. For this reason, the road is sometimes referred to the "wedding road" as well.
---
Spring flower party in Seoul, 
Yeongdeungpo Yeouido Spring Flower Festival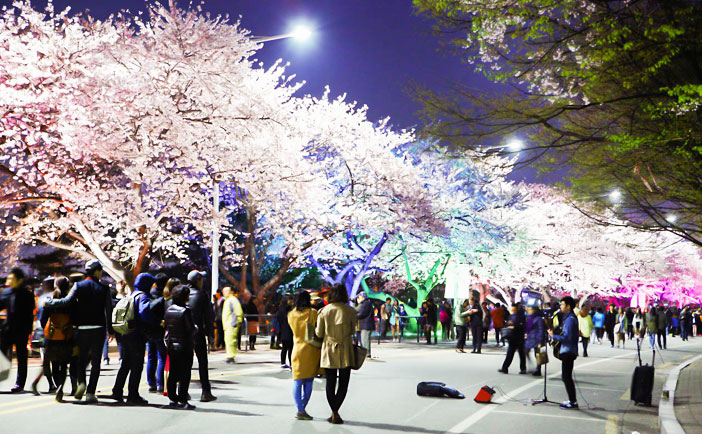 Period: April 1-9, 2017 (Planned)
Venue: Area of Yeouiseo-ro (behind the National Assembly Building), Yeongdeungpo-gu, Seoul
Description: The Yeongdeungpo Yeouido Spring Flower Festival is a representative festival in Seoul, taking place every April. Yeouiseo-ro, the street behind the National Assembly Building, is lined with cherry blossom trees and is the most famous cherry blossom street in Seoul. Visitors can take a stroll along the Hangang River through a tunnel of these majestic trees. Other spring blossoms blooming beneath the trees include azaleas and forsythias. There are also cultural street performances, a flower decoration exhibit, and a photo exhibit taking place throughout the festival period.
---
Walk through the fantastic cherry blossom tunnel at 
Jinhae Gunhangje Festival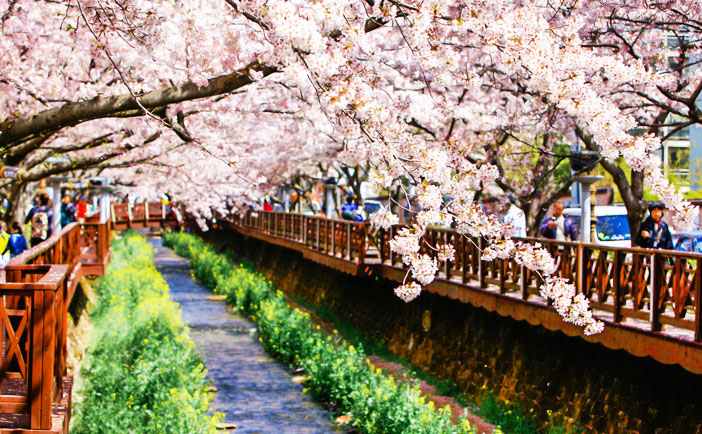 Period: April 1-10, 2017
Venue: Area of Jinhae-gu, Changwon-si, Gyeongsangnam-do
Description: This festival takes place in early April when the cherry blossoms are in full bloom. Jinhae Gunhangje Festival draws in more than 2 million tourists every year, and visitors are greeted by showers of cherry blossom petals as they pass through a tunnel of cherry trees. There are various events not to be missed, such as the Jinhae International Military Band & Honor Guard Festival and fireworks show.
Related column: Romance in Jinhae Gunhangjae Festival, a spring cherry blossom trip
---
How To Apply?
Complete the event online registration form and click the submit button.
An email will be sent out automatically once your registration has been received.
Click HERE to register as a Kaki Korea Club member if you are not a member yet.
A

COUPON MEAL

 will be given to registered participants only. We seek your cooperation on this matter. Thank you 
---
KAKI KOREA CLUB MEMBER
ADAABDULLAH
ADRIAN C
AHLAMAHMED
AINAADNAN
ALAM
ALFIZAN
ALICELOKE
ALOKA KHOO
ANONONONO
ASYIQ
ATEYN
AUDREY CHAN
AWANIS11
AWSP3362
AYIEN AIEN
AZAH
AZIERA0102
BALMICKY
BOINAKAL33
CAIREN
CASSIE KUM
CCWONG
CHANGYIN
CHINML
CHOCOFIZ
CMOOI80
CSL
CTEIK
CYL
DAPHNELLEE
DAYYYHARU
DNALILBOOGIE
DOMINIGUE
ENERES WEIL
ESTELLE
EVA CHAI
FADILAH YAZID
FAIZAHIJAH
FATIMAHZUBIR
FIQAH14
FIZA AZIZ
FLOWER1312
GWENJANG
HAFIZAHAYU
HASRAMELI
HAYATIYAAKUB
HAZRI
HIQMAHLAZI
HPLAU
IDTASHA
IMRANMUNAWIR
IVYWPL
IZAFAEZA
IZATULRADUAN
IZX
JAEJAE0311
JANET YONG
JESSIECHAN
JIANLYJ
JING YING
JOANNESUJU
JOO HYEON LEE
JOSONYAP
JUEDAUD90
KHAINAD
KUNITA
KWENNY92
KWON88
LSCNATALIE
LUCKYDILLA
LYDIAPURES
MADAMCHANG
MARGARET
MARIA
MAZLAN93
MEITAN
ME_CNOR
MILAWEY89
MIMIEYIMI
NAJATHUSSAIN
NITAGYU
NORFARIDA
NURUL
PLFOONG
PUSPHA25
RACHAEL910
RYNSALIM
SARAHOYA95
SEOULMATE
SFEEONA
SHAFIZAL_2015
SHAQQ
SHARONLIMSK
SHARYN
SHASHIKIN
SHHAY
SHINGHUEI
SHIRLYLEE
SNOWDOLPHIN
SONNYSOW
TEITO KLEIN
TJE0305
TOSHI
WEITING
YANIE
YAYATHEBUNNY
YITJIN
YP86CHAI
YUSEMYRAS94
ZAITASHA
ZATYSHARIFF
Registration Closed on 19 March 2017